Hello Fellow Oilers,
Our family is headed down to LA for a week vacation to celebrate my Dad's birthday and spend time as a family together as well. Thus the delayed post.:) This will be my only post for this week and next week I will post toward the end of the week.
So once again here is another weeks musing of discovering and benefiting from Gods amazing gift of essential oils!
Sunday/ Monday: During and after church I really felt like I was coming down with the cold/flu everyone has been having in our group. So immediately when I got home I started the tea kettle up and turned on the diffuser with some Thieves. Before bed I had 5 cups of essential oil tea. Here is the mixture I made up and always turn to when feeling sick.
Essential Oil Tea Remedy
Coffee Cup filled with hot water
1 drop Thieves
2 drops R.C
3 drops Purification
4 drops Lemon
1/8-1/4 cup honey
Sometimes I will add some more Thieves and RC if I feel like I would like it to be more potent. It is all personal taste.:) Let me know if you try it or have another tea mixture you rely on when you are feeling poorly.
I didn't go to sleep until 3:30am that night, or morning I guess.:D Some friends were spending the night and we girls had a sleep over; need I say more.:) Anyway I was sure when I woke up in the morning I would be horribly sick, but to my relief I felt surprisingly well and energetic.
Next time you are feeling run down and listless try my tea remedy you won't be disappointed.:)
Tuesday: My neck was really out, which led to a very painful headache on the verge of a migraine pain. So as always I forgot about my wonderful oils which I sell and write and talk about all the time, and I didn't even think to put it on until the evening when my dear sister suggested it. I quickly remembered as if I am so unknowledgeable in this area.:P Anyway I finally got the peppermint and rubbed it on all the trouble spots and within 30 minutes I had a lot of relief. Peppermint is a life saver!
Wednesday: We were doing a project that consisted of sugar cubes and of course they were found out by sugar ants and then the sugar ants found our cat food. As we were cleaning up the ants and the mess my sister Abigail brought the Bug Spray that I had made for camp and sprayed it all over the ants, they all died or deserted within five minutes!!! You can find the recipe
here!
I was so ecstatic to find out that it works for ants too.:D
Thursday: My Mom had a really painful ingrown toenail. So I got some Purification and she applied it to the area, within a couple hours she said the pain was completely gone! The same day my sister badly bruised a small section of her leg. Once again I applied Purification and Lavender and two days later she only had a tiny bit of bruising! Yeaahhhh!!!! I love Purification! It is great for bug bites, scrapes, bruise's, minor infections etc.. Purchase Purification; in your next Essential Reward order, you will not be disappointed.:)


Friday: I was having a bit of a rough time with my nerves and hormones, basically I spent half of the day crying.:) My Mom brought me Dragon Time and I placed a drop under my tongue and within 30 minutes my nerves were back and had a much better countenance and a good rest of the day. I am loving Dragon Time, I have used it probably 4-5 times when I am having a "woman moment"
J
Have you tried or used Dragon Time ladies?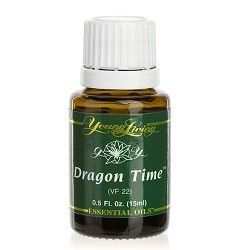 Please leave any thoughts, comments or suggestions below!!!
Have a blessed week!
Happy oiling,
~Hannah